You are in advanced mode.
You can turn it off in left sidebar. To use advanced options, you will need to enter your own Google Maps API Key.
Get Google API Key
LOCATION:
809 Academy Dr., Suite E, Solana Beach, CA 92075

HOURS:
Sunday - [Closed]
Monday - by Appointment Only
Tuesday - by Appointment Only
Wednesday - by Appointment Only
Thursday - by Appointment Only
Friday - 11AM-3PM
Saturday - 11AM-3PM
Call or text to book an appointment:
(619) 880-0260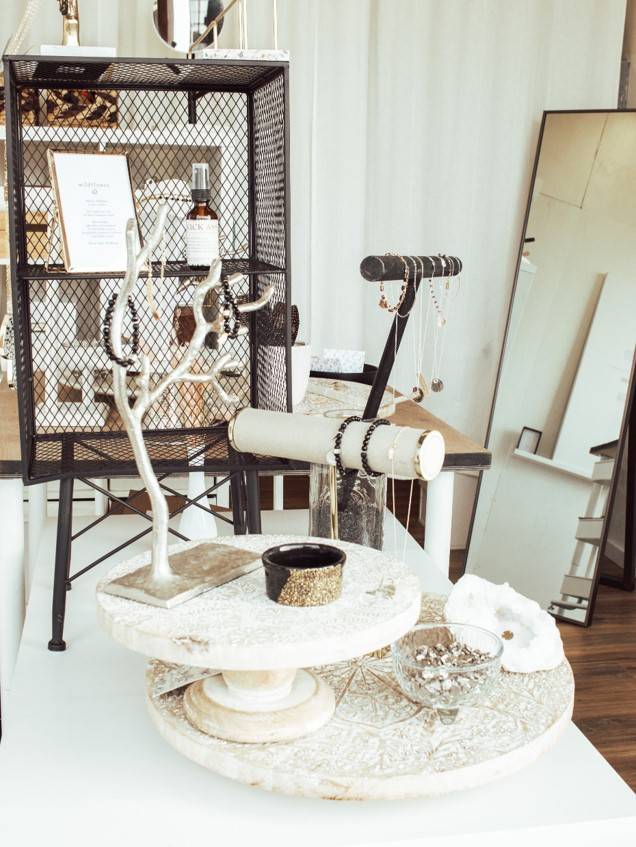 When you shop in-person, you get first dibs on fresh AF handmade products not available in our online store. From home and office decor, brand new jewelry designs, and lots of fashion and home accessories - all made by BAD BAD's founder and designer Sarah Foster.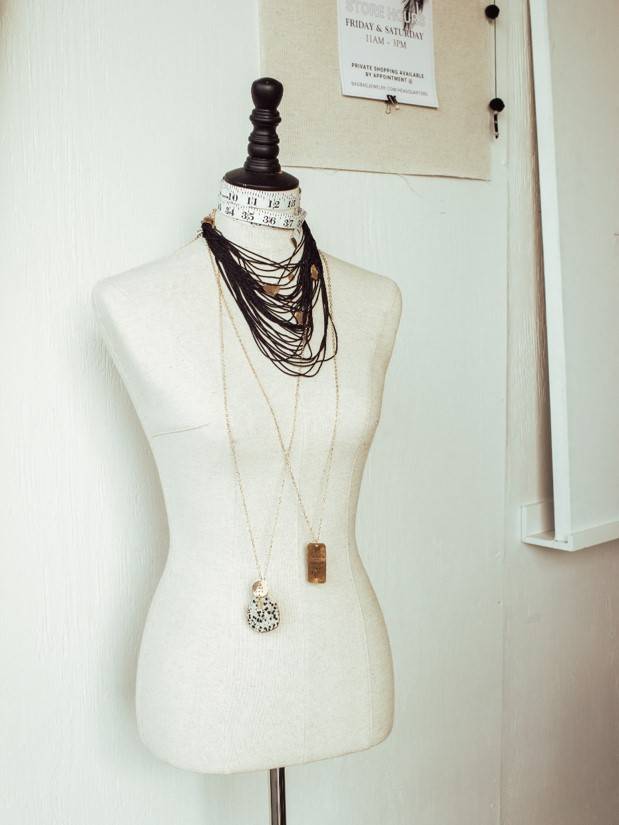 The benefit of shopping at our headquarters is you're able to get a fully customized jewelry design on-the-spot! Need a necklace to be longer? Done. Decide you want a custom hand-stamped bar necklace? Wish granted!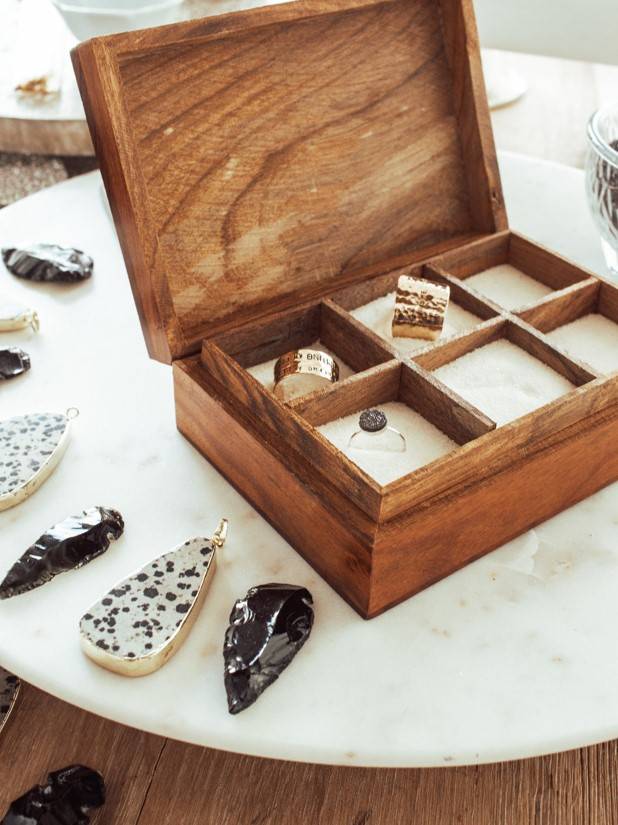 You'll find something for you, your best friend, mom, work-wife, and closest cousin. We offer gift-wrapping with our in-house design custom gift wrap available for all our jewelry designs. Perfect for last minute shopping!

A glorified-garage, this place is pure magic for head-designer Sarah Foster.
From the back of the headquarters she designs unique jewelry, art-work, fashion-accessories, home and office decor, and even seasonally inspired room-sprays. All to empower women and enhance the experience of each woman's environment, whether home, beach, car, or office.
At the headquarters, you can feel, touch, and try on quality handcrafted designs, flip through the pages of the raved about book 30 Days of Kick-Ass, written and illustrated by Sarah, and engage your senses with the in-house designed room-sprays.
It's a unique experience to visit the headquarters and shop the artistry of uniquely designed products that you won't find anywhere else in the world.
Impress your friends and family with this hidden San Diego spot!
Book a private shopping experience for yourself or bring up to 3 of your friends. You'll walk away with items you'll cherish for years to come!
I'm Sarah Foster the founder, designer, and Chief Foul Mouth of BAD BAD. I started this brand in 2013, on my living room floor in my beach-side 450 square foot apartment in Mission Beach, San Diego, California.
I wanted to make and wear everyday pieces that reminded me of my power and abilities as an individual and during a time where history is truly being made by women globally. My designs are an extension of the style I love: simple, timeless, and authentic.
Each design is created to inspire and empower women to go after what they want.

We all have the power inside us to stay focused, even when it seems difficult. Women who push past fear and go after their dreams are powerful people. I want women to leave their legacy, period.

As a teenager, I struggled with confidence, like real bad.
I wasn't as smart as Jenny, pretty as Amanda, and David didn't have a crush on me. I felt stupid, ugly, and unlovable. I didn't just think these things, I believed them.

Looking back, it's clear I spiraled because of my critical self-talk, negative beliefs, and feeling I wasn't enough and would never measure up. These beliefs lead my young, impressionable mind to dark fucking places.

When all you do is beat yourself up every damn day for months, eventually the weak will buckle.
I buckled.
I was depressed. Really fucking depressed.

[Trigger Warning]
At school I was funny and did my best to keep a happy face, but at home I struggled, remained quiet, and distant.

I tried to take my own life on multiple occasions. From attempting to overdose on pills to holding the cold barrel of a loaded gun to my head, I'd experienced one of the darkest places of the human mind.

With shaking hands, I set the gun down when I began considering other possibilities.

What would I be missing if I ended it all?
Was this feeling of worthlessness and hopelessness what I'd feel like forever?
Was a better life possible?

I'd never asked these questions before. This time they were enough to stop me from pulling the trigger and instead opened my mind to possibilities and a tiny ass drop of hope.
That was the last time I'd attempt to end my life.
My depression still hung heavy though. The thoughts continued and I still lived each day feeling numb inside.

My mom and I were on our weekly grocery store run to stock up on food for my very hungry brothers.

While riding passenger in the front seat, we sat in our own thoughts, as soft-hits from the 80's hummed out of the stereo speakers of the family's large boat-like sedan.
My body felt heavy and hopeless. (My daily norm.)

While staring out the window, a simple everyday common phrase abruptly ripped into my thoughts.

The words, unlike my usual thoughts, tore my entire belief system wide open.

The words it's going to be okay (I told you they were simple) swept through my psyche. Faster than butter in a preheated pan, peace and hope found every cell in my body and saturated my whole being.
Immeasurable amounts of hope flooded my thought-space.
My entire body felt light.

For the first time in years, the dark cloud that hung over me had vanished.
The words soothed me. They brought so much relief that during moments of despair and hopelessness, I repeated the phrase to myself.

It's going to be okay. It's going to be okay. It's going to be okay. It's going to be okay. It's going to be okay.

I knew that I could lean on those 5 words when I had nothing else to lean on. They always restored peace and hope.

I didn't know it back then, but my life's purpose was being formed as a very young women at 17 years old.

You have the power to decide what words and thoughts you want to think to yourself over and over.
As do all human beings, you're subject to random thoughts that you can't control, but when you're aware and actively choose what you want to think and repeat to yourself, you become capable of more than you could imagine.

It wasn't until years later that on my way to work I came up with my own method of using words powerfully. As cheesy as it sounds, it feels like magic, so that's what I fucking named this process DISCOVER YOUR MAGIC WORD.
A quick read and small workbook (it's free btw) that takes you through 5 simple-as-hell steps to help you define your magic word.

Enter your name and email below and I'll send it to you right-effing-meow.

✕