YOU'RE IN GOOD, GOOD COMPANY
I know women want meaningful, quality relationships. Not just with people, but with what we wear and the brands we shop.

I might have formed BAD BAD the company, but the intentions are good.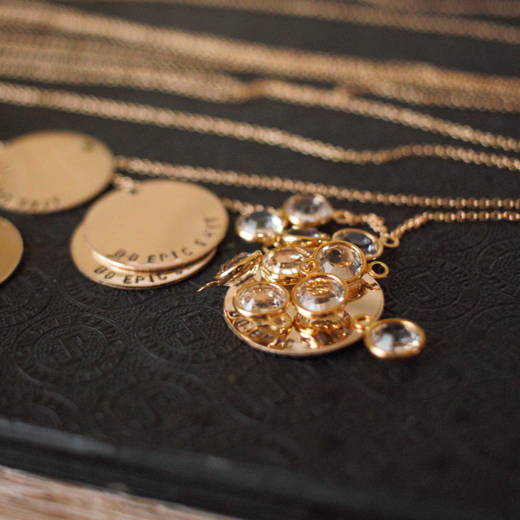 HOW LONG DOES IT TAKE TO MAKE AN ORDER?
Designs ship anywhere between 1 -7 business days after the original order date.

With most designs being customizable, we don't keep much inventory on hand. Therefore most items are made-to-order.
We do our best to keep materials on hand. In the chance we need to order more materials (chain, sheets of metal, etc) we add a few days buffer just in case.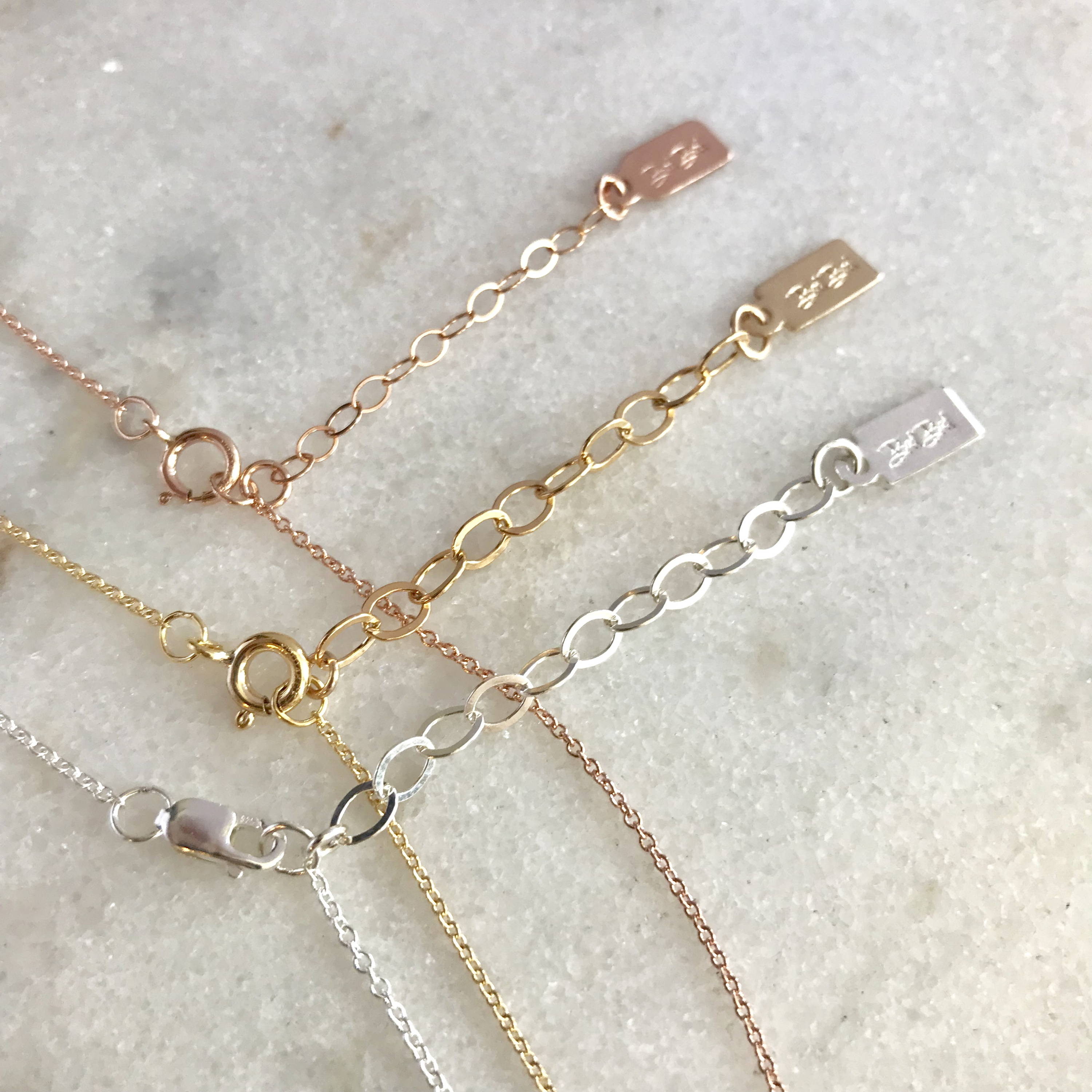 All sizing information is included on each product's item description.
For additional length to necklaces and bracelets, purchase an extension that allows for custom adjustment up to an extra 2". Shop extension here.
If you have a special request for a specific size, we abso(fucking)lutely accommodate! Please please contact us here prior to placing your order.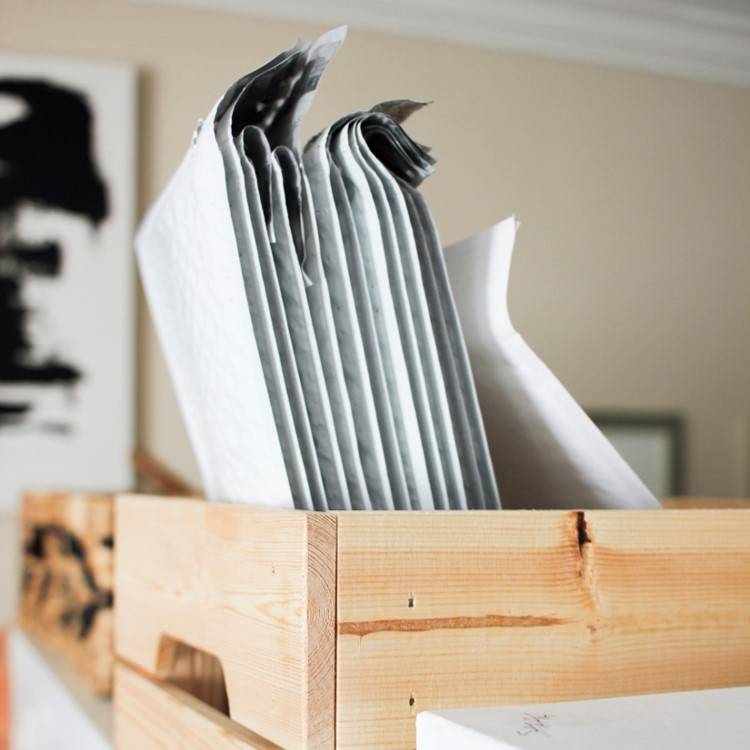 We use United States Postal Service for all orders. Once the order is made, packaged, and given to our postal carrier, it will take 1 - 5 business days to arrive to the U.S. shipping address provided at the time of order.

If for some reason you need to change your shipping address, haven't received your item, or have any question, please contact us here.
Domestic shipping (USA): All purchases will be processed, made, and shipped within 7 business days of order.
Once the order has shipped an automated email will be sent with USPS tracking information.
All products, including ready to ship and made to order pieces, are shipped First Class Mail which takes 1 -5 business days until delivery.
If you suspect your package is lost, or have a question regarding tracking of your package please contact 1-800-ASK-USPS.
After you've contacted USPS or your local office, please message us using the contact form. Include your order number and the information USPS provided you so that we may better assist you.
International shipping: (International customers, please see complete information here):
Due to the current state of international shipping, we have to charge a premium to get items packaged and shipped overseas. The amount will be reflected at checkout.


All purchases will be processed and shipped within 7 business days of when the order was placed and shipped via United States Postal Service (USPS).
Customers assume all costs also associated with declaration value in accordance with their countries duties and tariff costs.
BAD BAD cannot be held responsible for lost packages. Customers will be sent an email that includes a USPS produced tracking number once the order has shipped. Please allow up to 3 weeks from ship date for delivery.

Delays may occur due to customs. All custom duties, taxes and fees are the sole responsibility of the customer. Please contact your local postal carrier who typically receives office or UPS facility for further information concerning custom duties or fees.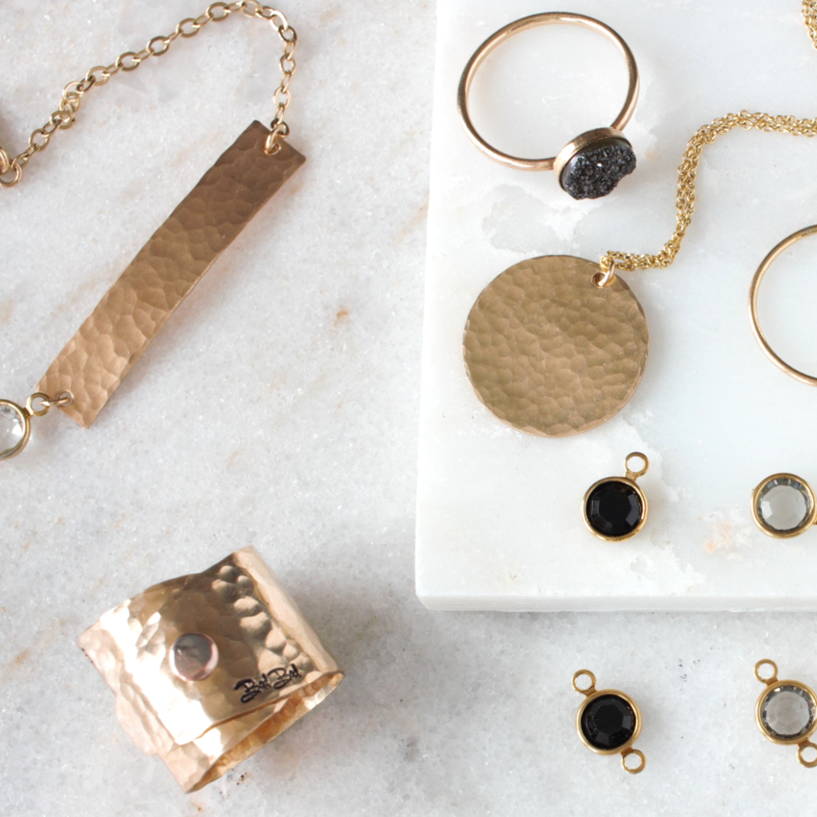 Jewelry orders: New and unworn items purchased online domestically are eligible for a full refund. When requested, we offer exchanges as well.
Custom orders cannot be returned or refunded.
Notify BAD BAD within 10 days of the delivery in order to receive a Return Authorization (RA) number and all original packaging must be included.
Shipping costs must be paid by the customer, with the exception that the item has been damaged before or during delivery.
Contact us before shipping the return since we cannot be responsible for items returned to us without notification and/or items that are returned with a shipping alternative where you cannot trace the package.
Digital and virtual orders: Digital products, courses, and coaching services are non-refundable.
MATERIALS WE USE
To provide affordable and long-lasting designs, we use high quality metals: Sterling Silver, 14K Gold-Filled, and Rose Gold-Filled.
At times brass or nickel-silver are used for various charms or necklace - you'll find these details in each product description under the materials section.
AVOID WATER

To best care for your jewelry, do not submerge your designs in water and avoid getting them wet. The filler used to blacken or color the letters and stamped designs is not permanent.
Over time, water and regular wear might remove the coloring all together. To have your jewelry restored, please contact us!
To prevent this from happening, avoid water!
STORING JEWELRY

When storing jewelry, place it with something that absorbs moisture. When you're not wearing your design, it's best to store it in a plastic bag with a silicone package (pulling one from a shoe box works great!) or store your design in the jewelry box it came in.
CLEANING & POLISHING
To clean jewelry, we suggest a jewelry polishing cloth to remove tarnishing. Polishing cloths can be purchased at almost any home goods store or Amazon.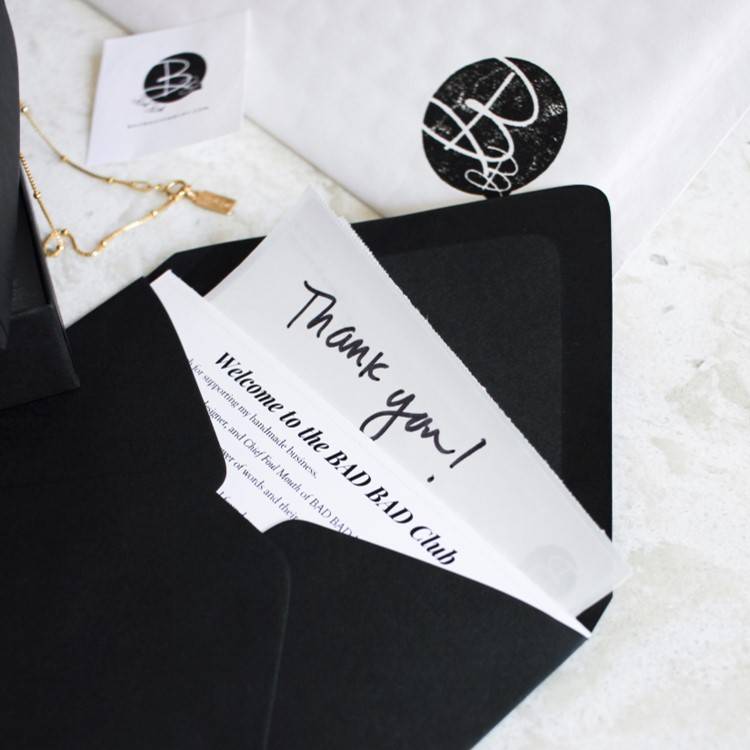 LIFETIME JEWELRY CARE PROGRAM
the Bad Bad Guarantee:
loyalty means a lifetime.
We are proud to be one one of the few jewelry brands who offer warranties and a lifetime jewelry care program on their products!

Our physical products are covered under a limited lifetime labor warranty, or what we like to call our lifetime jewelry care program.
The lifetime jewelry care program covers repairs, restorations, and replacements with zero to minimal fees.
Designs are intentionally designed to be lightweight and unburdensome. (Nobody likes extra effing baggage; we believe the jewelry you wear every day should make you feel uplifted, not weighed-down.)
We also understand that BAD BAD women know how to turn it up from time to time. (We like to get off our ass and tear shit up too.) For this reason, we recommend that jewelry be removed during any strenuous activity or exercise to prevent any damage to the design.
At any moment where you think the links or connections are compromised, remove your jewelry, place it in a safe spot (preferably in a sealed bag or envelope), and contact us for repairs.
For components that are broken (such as a chain, charm, crystals, or the like) there will be a fee for material replacement after the first 30 days from purchase. Contact our customer service for pricing on material replacements, we are more than happy to help!
In the event that one of our jewelry designs need to be repaired, please contact us with details, and if possible, pictures.
Customers are responsible for return shipping fees to our studio.
Oh yeah, one more thing, BAD BAD is not responsible for lost, misplaced, or stolen items. If it sounds weird that we have to say that, we know, but we occasionally get asked for full replacements.
What is covered in the first 30 days: Labor and material for repairs due to manufacturing and material defects.
What is covered after the first 30 days: Our lifetime jewelry care program is for repairs and discounted part replacements. Please contact us for specifics on your well-loved design(s).
We love our work and we want you to love it too, for life.
We love Mother Nature and the environment, which is why we are eco-friendly - starting with our packaging.
Instead of providing a jewelry box with every order, you have the option to have your jewelry shipped on a jewelry card in an eco-friendly envelope, just leave a note in the comments during check out!
All packaging is 100% recyclable.
It's important to us that we do our part to make sure the world, and everything we're doing, is leaving as little carbon footprint as possible. Nearly all of our materials (90%) are manufactured and sourced in the United States of America.
✕