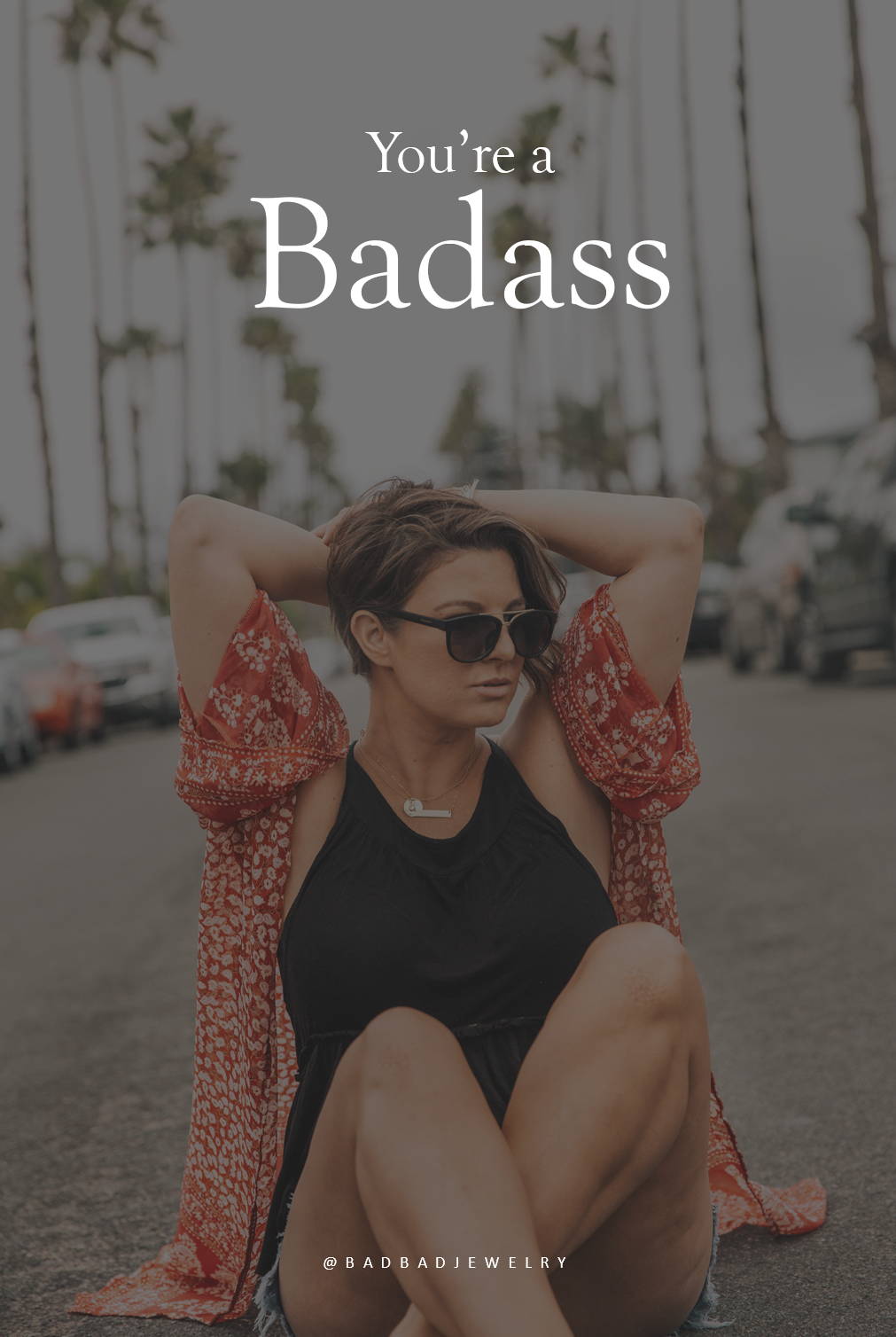 You are the person you perceive yourself to be. If you change your perception, you'll experience life differently.
Wow, is she trying to be vague as fuck?
I feel that. Let's get into it.
First, you've already created who you are for yourself. You have beliefs and stories about who you are.
Whatever you're telling yourself, you believe at some level:
🗨 I'm lazy.
💬 I'm awkward.
💭 I don't deserve [fill in the blank].
You see all of your interactions and life events through the lens of this perception. You then have experiences that make your beliefs more real.

We live life gathering evidence proving we're the way that we BELIEVE and THINK we are. ⠀
WHETHER YOU THINK YOU CAN OR YOU CAN'T – YOU'RE RIGHT

*eye roll* Do you remember those motivational posters from the guidance teachers' office? 🙋
Once upon a pain-in-the-ass-teenager time I thought those posters were so fucking lame. Yet, what we think we're capable of, who we think we are, and how we think others see us (and whether or not we give a damn about that) those thoughts can hold us back (or push us back into tiny dark corners) or they can shatter ceilings.
WE ARE THAT POWERFUL! ⚡️⠀

What if you decided to believe something else about yourself?
What the fuck could you become?⠀

One day, I decided to believe I was a badass. I defined what a badass was for me:⠀

🌪 A badass was a woman who spoke up when shit felt off and wrong at work and in life ... AND offered a solution. (Badasses don't complain. They correct and improve.)

🔥 A badass was a woman who owned her mistakes and spoke up the moment she realized she fucked up … AND made it right. ⠀

☄️A badass was a woman who knew how to protect her heart, emotions, time, and energy … AND learned how to say 'no' to anything that would drain her resources (health, time, etc.)⠀
⚡️A badass was a woman who listened to others … AND learned from them.
💭A badass was a woman who never wanted to look back one day and feel the regret of never doing the what scared her to make her dreams happen.⠀
I am a badass. And I don't effin care if you agree that I am. That is where the magic is: believing and knowing who you are and not caring if anyone thinks otherwise.
Other people aren't carving out your place on this massive rock – you are. So chisel out the person you want to see and ROCK THAT SHIT.
WHAT WE BELIEVE ABOUT OURSELVES IS MORE IMPORTANT THAN THE OPINIONS AND PERCEPTIONS OF OTHERS ⚡️⠀

To cement this reminder for myself, I made this necklace in 2014. I lost 30 lbs and grew this business when I shifted my mindset and perception.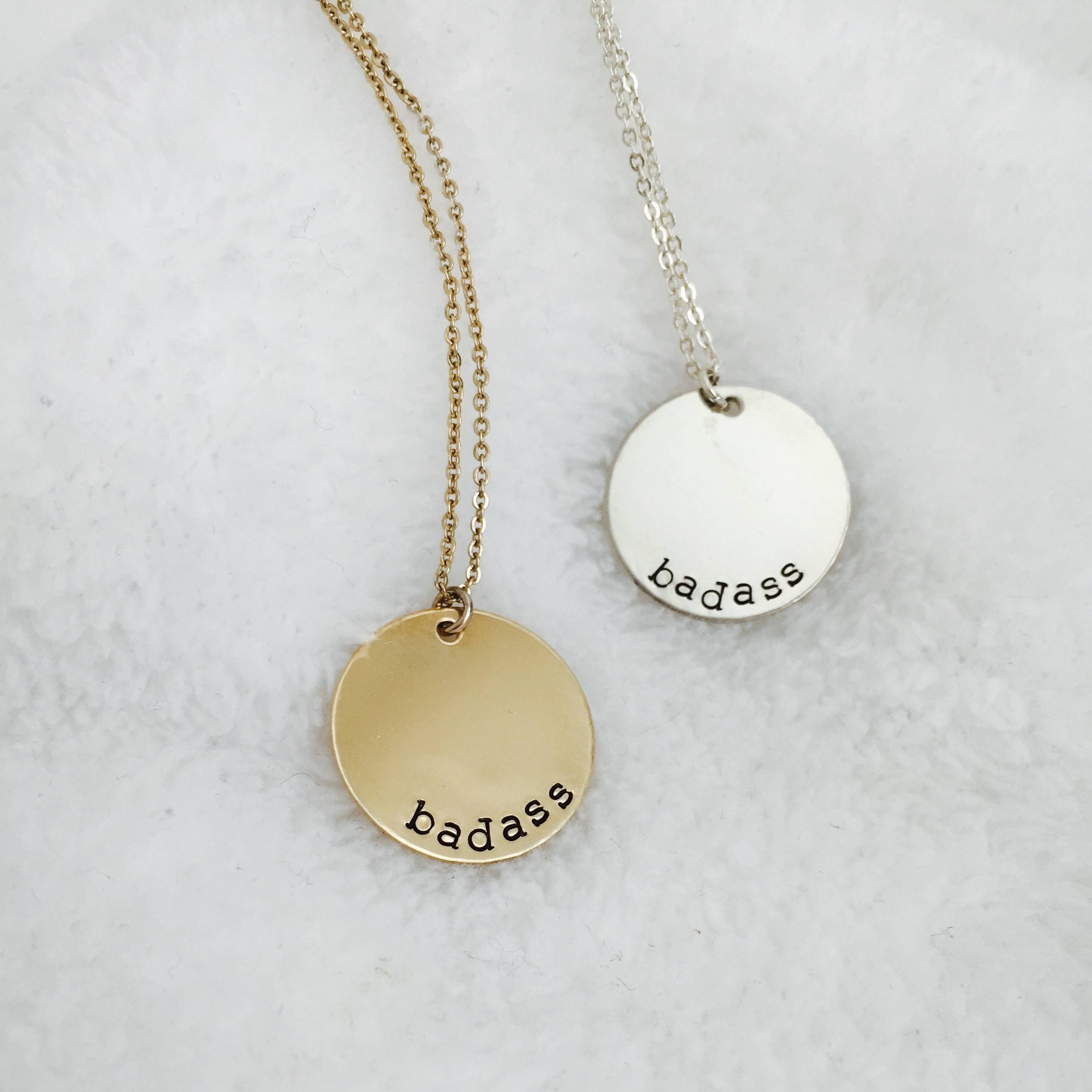 Need a reminder to keep you best badass-face forward? Click here.
Share this post with a friend who doesn't know they need a slap in the face with a dose of inspiration.
GET BADASS SHIT IN YOUR INBOX
✕