How to Never Fucking Settle [in Life or a Relationship]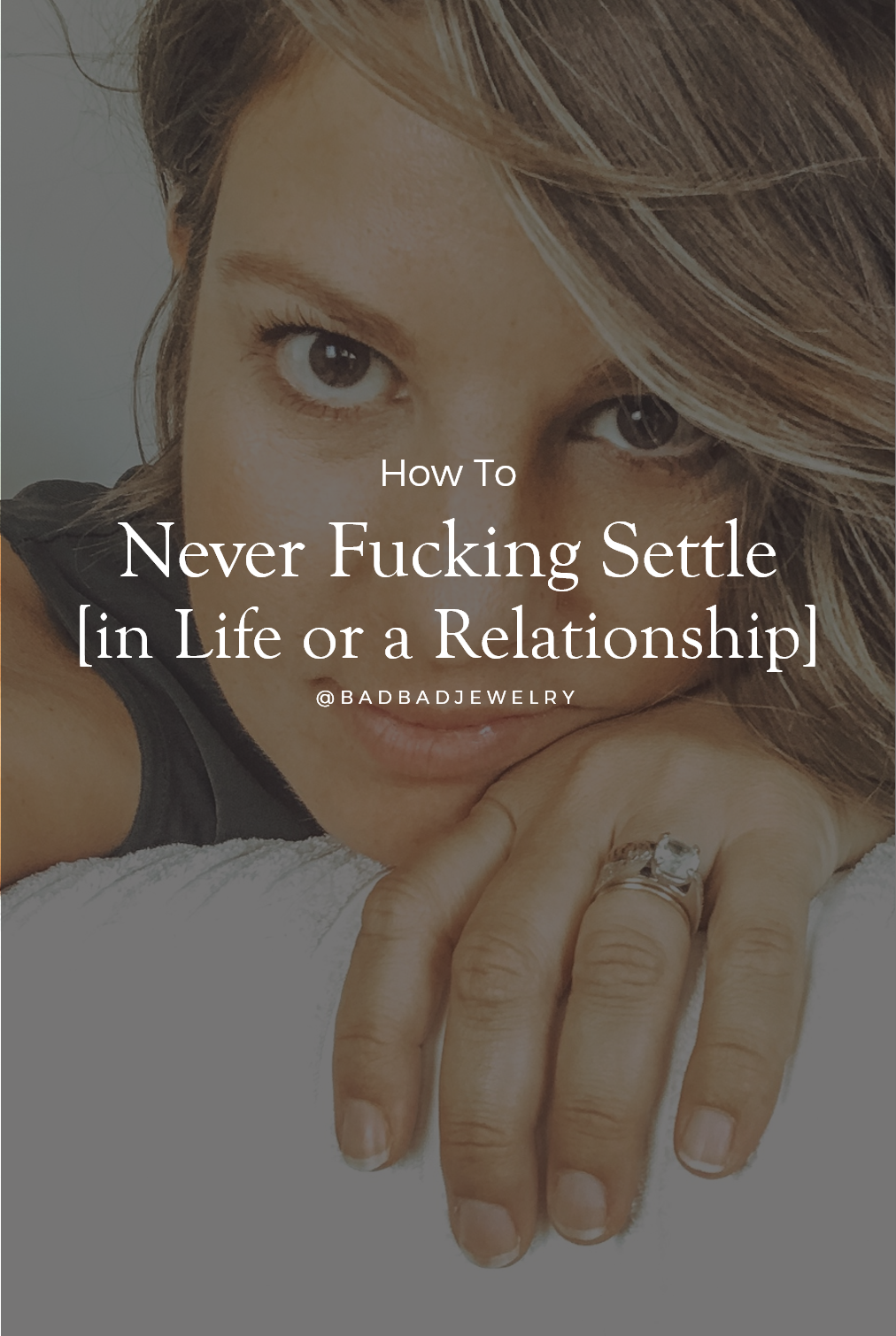 I had a place lined up to stay. I had additional work lined up to help supplement the income that I'd be missing out on by separating from my husband.

This was it.

Things had been strained for a long time.
I'd settled for lower standards. I settled for critical and damaging conversations instead of loving and encouraging words. I settled for immature behavior. I settled for a lot.
SETTLING TURNS YOU INTO SOMEONE ELSE

The change in me happened slowly over time, which made it impossible to recognize the contrast of who I had become versus the version of me I wanted to be: caring, loving, compassionate, and a bold stand for what I believed in and what I expected out of a partnership. I had high standards for close friendships, but why wasn't I doing it in my marriage?

SPEAK UP WHEN THINGS FEEL WRONG OR OFF

I wasn't speaking up for years. Until one day, I did.

I owned the fact that I was no longer willing to settle for anything less than an honest and truly loving relationship with a partner who valued their own character as much as I did my own.

The couple that we were had a future I was NOT willing to live into. I'd stuck around for years waiting for him to change and it wasn't happening.

For some of us women, at some point, we finally choose to wake the eff up and realize we don't need to settle. And even though it's scary to not know what's on the other side of saying "Enough of this bullshit, I'm moving on," we do it anyway.

That's when I stopped placing blame on him for not changing, and instead, I took responsibility for my own happiness and future.
Through the process of saying no to everything but loving myself and working on what I loved to do, my husband was doing a lot of inner work on his own and nearly unbeknownst to me. I was focused solely on what I was doing. After all, the future I was looking into only involved me. I knew and trusted that at some point that would change, and I'd find a lover or a partner and life would go on.

I became an observer of my own feelings, emotions, thoughts, fears, doubts, my surroundings, and more. I stopped feeling the need to numb, hide, ignore or deny how I felt and the reality of what was going on in my life.

Nearly every day I was present, watching and witnessing life, even the little things, unfold. I was becoming who I once was and falling in love with simply witnessing all things.

In the two or so months that I spent diving deeper into my creativity, self-awareness, heart-centered friendships, and getting outside more, my husband was changing too.I barely recognize him today. I barely recognize us. And by "us" I mean we - we're still together. Better than ever.

There was no plan for us to stay together and so almost needless to say the transformation of us as individuals and our marriage completely surprised me.

We celebrated our 4 year wedding anniversary last night, and boy did we celebrate. We had drinks, laughs, tear wiping, encouraging words, and of course late-night burritos. Somethings will never change.
WHERE THE HEAD AND HEART IS NOW

I'm fully owning that I might sound like I'm an asshole, but I really don't give two shits about what happens.

Allow me to unpack that because I feel it's a key component to any relationship and definitely mine. I'm unattached to the outcome.

There are no heavy expectations. There's no pressure. We know what we both want, what we won't tolerate in the relationship, and we have clear boundaries.

I feel most like myself.

If all I have is me, I'm clear on what I won't settle for, and I trust my heart and gut to lead me through any situation, I know I'll be alright.
As with any relationship I know that things can change.What I know won't change is being a stand for myself and my life.
I believe in doing what's right in any situation. I believe every individual should take responsibility for their own life.
I believe having ownership of our actions and words is the most important aspect of any character.
I also know how powerful it is to be open-minded and NOT make excuses, immediately defend, and to not resist change and growth.It doesn't matter if it's a marriage or a friendship, I won't settle for anything less.

WHAT KEPT ME FROM DEFAULTING BACK TO SETTLING

At some point in my marriage, I settled. I gave up. And when I was preparing to leave, I swapped my wedding ring out for my own ring design that reads NEVER FUCKING SETTLE.

Now I wear both my wedding ring and my reminder to never settle.
Intense? Yeah, in more ways than one, but I wouldn't have it any other way.
When I wasn't able to jump on the phone to talk things out, schedule a session with my therapist, or take a drive out in nature, my ring kept me solid in the moment that I wanted to waiver and default back to feeling comfortable.
It reminded me of who I was and what was important to me.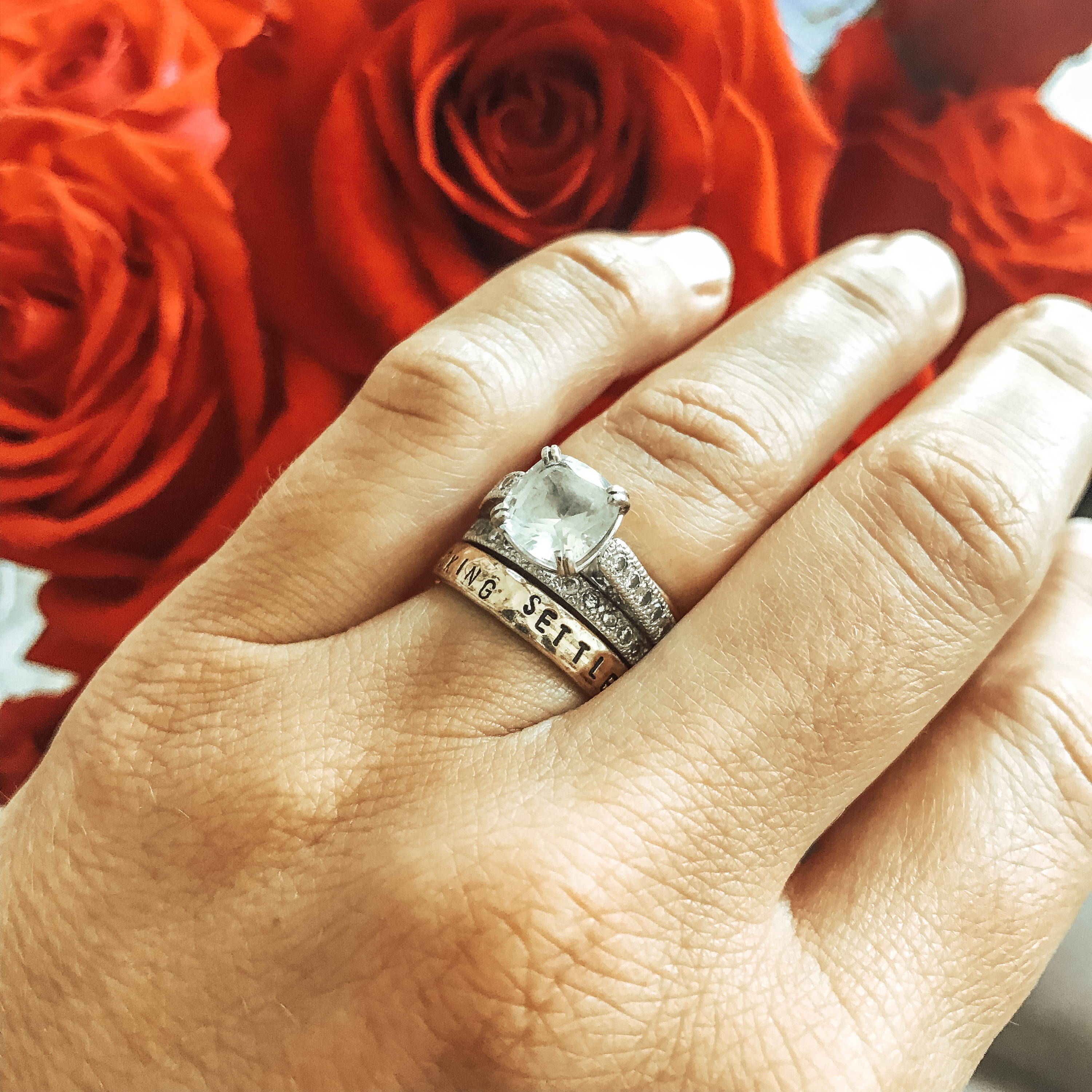 Because you're human, you're likely going through some difficulty right now. I hope that in the chaos of navigating it, you're able to identify what it is you're committed to and what you're a stand for.
Maybe you need to...
> stop settling
> finally speak up about what won't work for you and what will work for you
> summon your inner train-conductor-authority that each one of us has within us and shout "This train is headed to No-Bullshit-Town. You're either coming with or you're getting off here. No more bullshit."

Then you shove off on the Empowered Express, full fucking steam ahead.
DO WHAT'S RIGHT AND NEVER FUCKING SETTLE

A few simple words are sometimes all you need to stay on course when the road feels rocky.Design a piece of jewelry for you that you wear daily. I promise it WILL make a difference. And as cliche as it is, it's investing in you and your future as a strong ass woman.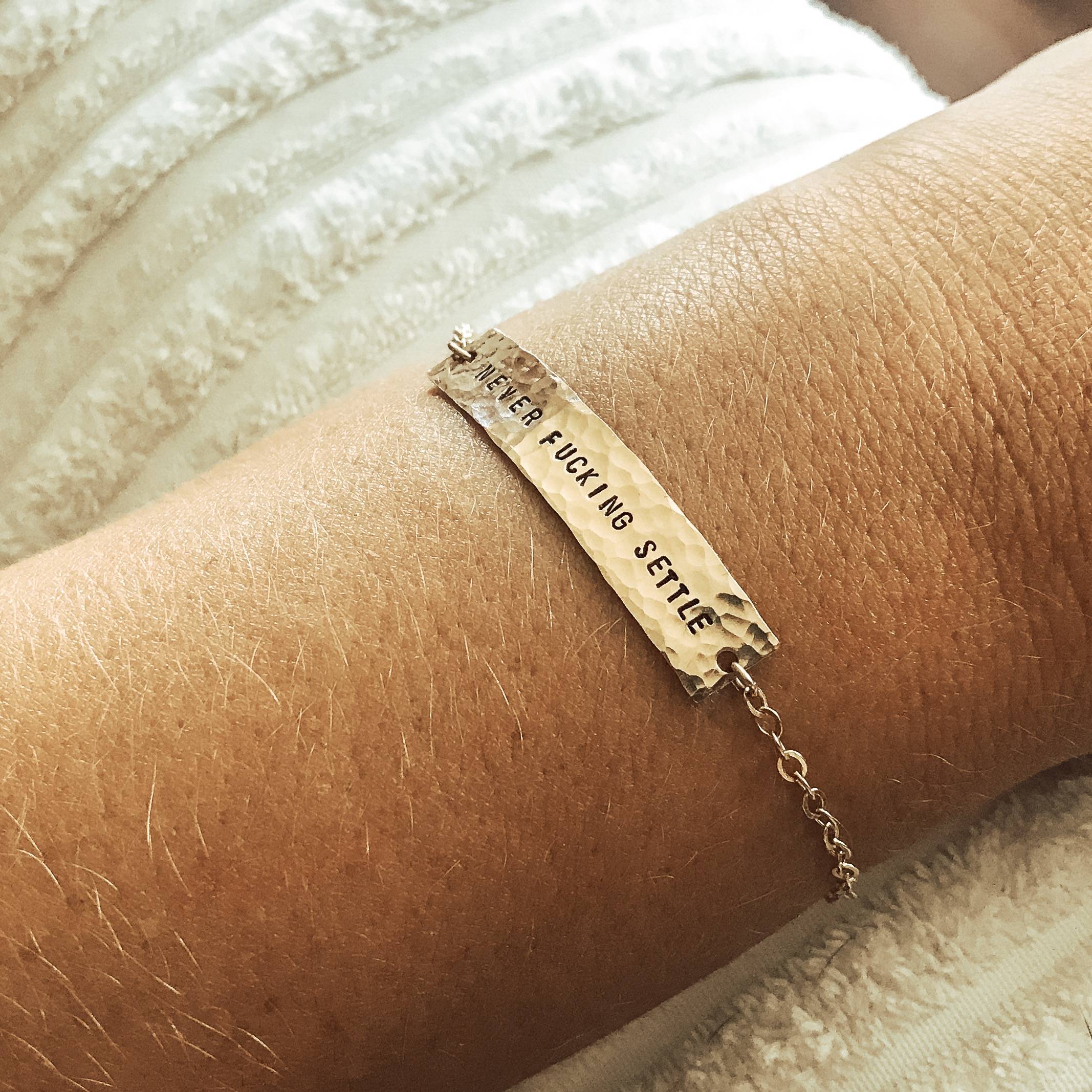 GET BADASS SHIT IN YOUR INBOX
✕