A letter to my loyal customer, online sister, and distant friend: I have news.
This is easy to write, but hard to share:
I have news. It's different and not what you would normally expect from me. It's soft, tender, and void of cuss words. It's a side of myself I've publicly held back.
When I started Bad Bad Jewelry in 2013, I was in an intense, action packed, period of my life.
I was working a day job and making and slinging my jewelry on weekends at the top hotel clubs in downtown San Diego. Designing for celebrities, professional athletes, and big brands. I was lifting heavy weights in the evenings, and wearing my own designs that read "just fucking do it" and "do epic shit". It was a fast pace, harder core, no excuses lifestyle for me. Yet, all of it was authentic to me at the time.
In the ten years of running my business and being the main designer of all things foul-mouthed, I've grown, matured, and evolved as an individual. Mostly due to unexpected events, I developed a deeper sense of compassion and softness towards myself and others.
Life has a way of doing that doesn't it?
I've come to intimately know discomfort over the last decade, with the experience of loss, death, and grief from divorce and heartbreak, the passing of loved ones and pets, to watching people I've fiercely loved struggle with homelessness and addiction.
The pain and grief was hard to bare at times. It was all uncharted territory as someone who's lived a fairly healthy, morally driven life. Looking back the scope of everything elicits a flurry of feelings. Some good. Some sad.
Isolated, any of those experiences can harden a person and turn them bitter, or it can open the heart for those who dare to bare down, feel the pain, and lean in.
Wholeheartedly I can say I leaned into the pain each and every time. Feeling. Processing. Allowing it to move through me, and ultimately unexpectedly shaping me.
I changed.
I'm tender. I'm sensitive.
I now desire inner and outer peace. I'm easily unsettled by chaotic energies. I'm turned off by people who are unwilling to have compassionate, open, and slow conversations, and for that reason a lot of friendships have faded.
I've softened. And somehow I'm still softening.
I've embraced more of my feminine nature. In truth, I've been living from it for some time now. What a contrast of energy between then and now. A decade long metamorphosis, bookended by two versions of the same person, chrysalized and alchemized with a myriad of ingredients.
The process? Ugly and disturbing.
As the harsh winds of life, events, circumstances, unhealthy friendships and relationships surged and swelled, whipping and tearing at my face and soul - they shaped me. Grinding down the jagged edges of believing that I knew what's best for others, and sanding down the sharper points of my younger self who thought I knew it all.
While these last few weeks have been cataclysmic in the refinement process, filled with stories that I hope to one day share when enough time has passed, and the words I use to recount them aren't fresh and pink, like new skin that still needs to be fiercely protected from free radicals and internet trolls.
The refinement, or should I say slow metamorphosis from intense to tender, has been ongoing for sometime now. Years actually. Which has made the work I do for my hardcore "Wake up. Kick ass. Repeat." business feel unbalanced and misaligned.
Through the melting down and liquification of the hard-driving, weight lifting, f-bomb dropping, no excuses version of myself, I haven't been able to reconcile the intense energy that I once oozed (and that helped my brand grow) with the changes I've experienced internally as I cocooned, stewed in the chrysalis, and began to alter form in the process of becoming something - or someone - I couldn't foresee.
Yet, here I am. A changed Woman with a capital 'W'.
As if to have risen from a pile of ash after crawling through flames that penetrate dimensions, a Phoenix rises. Holding no glory or pride, but instead standing on used-up and weathered legs that somehow still have strength and power. The earth's dry planes just underfoot, thin layers of a tattered dress shed the shoulders, and unseparated sweat and tears mark a dirty, dusted face.
She doesn't look like much, but she's everything.
Fierce and tender.
Soft and still strong.
Forgiving, but not forgetting.
This is the coming of the wise woman, the wild one, in the time before the sage, teacher, warrior and crone.
And there is no turning back.
I feel like the written piece above deserves it's own container, and that anything I write following it diminishes the potency, but I know some of the OG's and my biggest supporters will want to know where the brand stands:
I don't know what's next for Bad Bad the jewelry brand. And though my mind wants to know, my gut is telling me the answer will come in time. For now, the store will remain open, I'll continue to make jewelry as orders come in, and I'll continue to follow my intuition.
What I feel pulled towards is my first creative expression: writing.
Writing for my clients. Writing for a new business I just started with my best friend. And writing for myself.
A while back I started BAD BAD Co. (a branding agency for female business owners) you can find out more here.

And if you're also drawn to the feminine, I invite you to check out me and my besties new business Divine Feminine Finance here.
Share this post with a friend who doesn't know they need a dose of inspiration.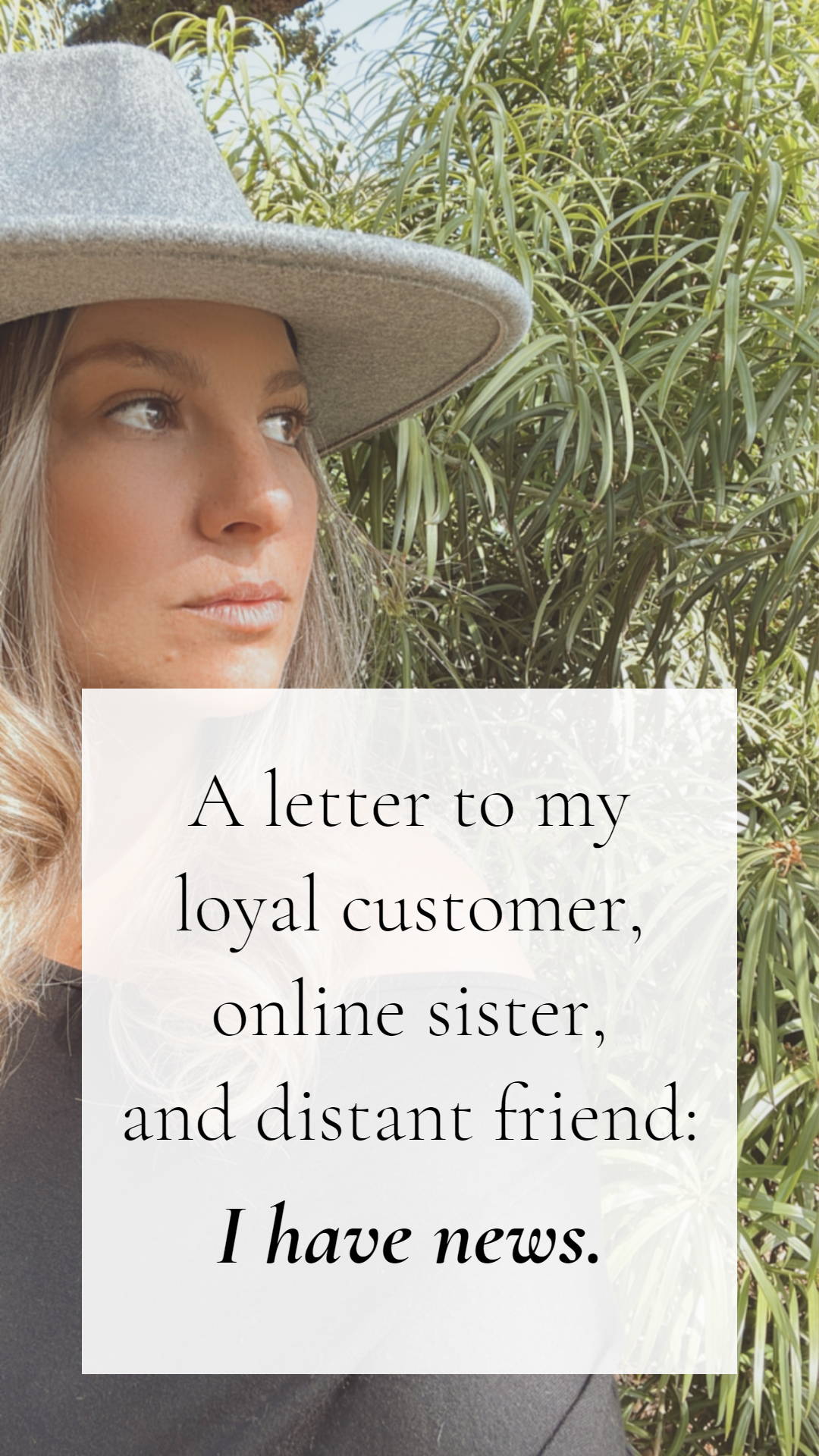 GET BADASS SHIT IN YOUR INBOX
✕